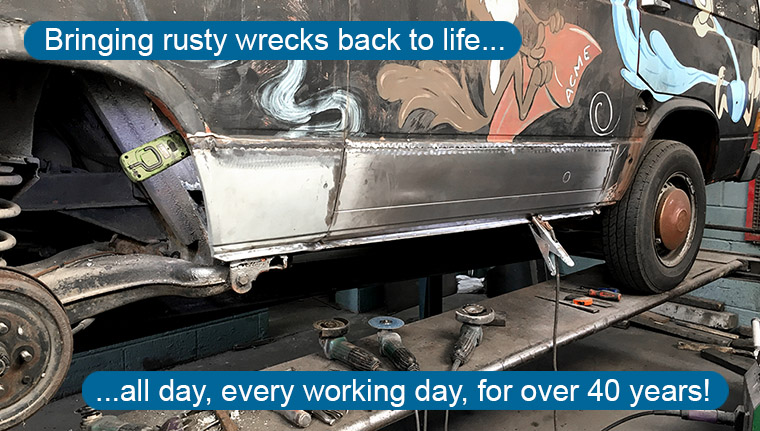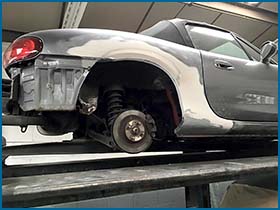 Bodywork Repairs are undoubtedly our main speciality, and the primary reason why so many Classic Car enthusiasts, Sports Car, Commercial Van, Camper Van, Motorhome, and Off-Road vehicle owners come to us.
These vehicles in particular, are very prone to having severe corrosion issues, and therefore require a level of fabrication and welding skills beyond the scope of most garages.
In fact, many local Motor Traders either bring welding work to us, or refer their customers to us (this also includes modern crash damaged vehicles).
This is not a poor reflection on these Motor Traders, they are very good at the work that they do. However, for them it is not economically viable to employ full-time fabrication and welding specialists. Similarly, we use the specialist services of Upholsterers, Windshield Fitters, Engineers, Electroplaters, etc.
Please Note: We do not undertake Insurance Claim repair work directly.

At Trickett Autoworks we have three members of staff, who are highly experienced vehicle fabrication and welding specialists and whilst Nigel Trickett has many other management duties now, our other two spend almost every hour of their working day repairing and restoring bodywork, and have been so for many years.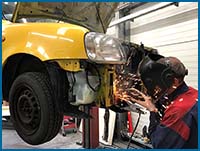 Once the bodywork is fully repaired, you can choose whether to have our in-house staff to fully prepare and Spray Paint your vehicle and as with our Fabricator / Welders, you can be assured that we only employ staff with many years of experience.
In reading this page, hopefully you will understand and appreciate that at every stage of repairing bodywork and restoring a customers motor vehicle back to its former glory, we will have used time-served and highly skilled tradesman.
We know that it can be a big financial commitment to have bodywork repaired, so when discussing your requirements with Nigel Trickett, you will find that his 40 years of hands-on Fabrication and Welding experience both helpful and reassuring, so please feel free to ask questions.
Pricing: -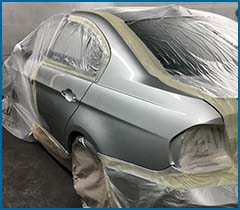 Our hourly rate is very competitive when compared to other similar businesses within the Motor Trade, and our staff will always try to complete your work as quickly as they can. However, our staff are skilled craftsmen who take great pride in the quality of their workmanship, and they also ensure that they use appropriate and good quality materials and products at all times.
As the quote you receive will be based on the hours required to the job properly, and the cost of the materials and products used, we cannot, and will not, try to compete with businesses who are willing to compromise on standards.
At Trickett Autoworks we can guarantee the quality of our work, and that any quotation you receive will be honest and fair… that's the best we can do.
Enough said, please have a look at some photographs of our work in the galleries, where you will be able find many examples of the challenges we have encountered over the years.
01202 625050

nigel@trickettautoworks.co.uk

PS: Throughout this website, the word "experience" is used a lot, so let's define experience: -
On leaving school, Graham Trickett started working at a local Shipyard as an apprentice fabricator and welder. He went on to work at Oil Refineries, Power Stations and Engineering Works, before founding Trickett Welding Ltd in 1977. Graham Trickett (and his wife Christine), are still Company Directors, however they are now retired and mainly participate in administration duties behind the scene. That said, Graham will still visit the workshop several times each week.
Nigel Trickett joined the Company as a trainee fabricator / welder when he left school aged 16. Having spent his whole working life here, when his father Graham Trickett retired, he became Managing Director.
Nigel's extensive knowledge of repairing and restoring motor vehicles, combined with his business acumen, has taken the Company to where it is today i.e. Dorset's leading specialist in motor vehicle fabrication and welding, and a go-to garage for Classic Car restoration work.
As managing director, Nigel now has a whole variety of roles and duties that require his attention, yet he still finds time to puts his overalls on and do some "real work," most days. Not only does he still enjoy fabrication and welding, he is also very aware that by retaining and updating these skills, this ensures that he can assess the specific needs of customers, far more effectively.
Neil joined the Company as a trainee when he left school 25 years ago. Over this time, he has worked on a huge variety of Classic, Vintage and Modern motor vehicles, during which he has accumulated over 50,000 hours of hands-on fabrication and welding experience.
When it comes to repairing a chassis, structural component, body panel or ancillary component part, his abilities are second to none. He has become a well-known and highly respected fabrication and welding specialist within the Classic Car restoration community, and throughout the local Motor.
Neil is now our Senior Fabricator / Welder and Workshop Manager.
Latham joined the Company 6 years ago, having previously completed a three year Welding Course at College, and having worked at a Custom Car workshop for two years. Since joining us, he has added over 12,000 hours of fabrication and welding experience, working on a wide variety of modern and classic motor vehicles. He has become a very accomplished and highly valued member of our team.
A small team, yet this amounts to well over 100 years of fabrication and welding... that's what we call "experience".
Note: We do have other staff who have come to us with some fabrication and welding experience. However, they are not specialists and are strictly prohibited from undertaking any welding work on our customers vehicles... they just don't have enough "experience"!