Car restoration has been a major part of our business for over 45 years now. We started attracting customers from the Motor Trade and Classic Car enthusiasts because of our origins and expertise in industrial fabrication and welding and back then, most of the jobs would have been repairing corrosion damaged structural components (typically on vehicles that had failed an MOT test).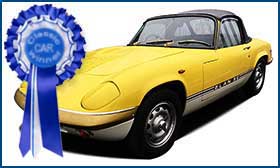 As demand for Classic and Vintage restoration work grew, we needed to up our game to meet our client's requirements for additional services, and whilst fabrication and welding is still at the heart of our business (and for very good reason i.e. the foundation of every good car restoration project, is a solid chassis and bodywork), we started to employ highly skilled and experienced mechanics, panel beaters and spray painting staff too.

As a team, we are now very able to strip down our customers classic, vintage, or more modern cherished vehicles to a bare shell; fully restore the chassis and bodywork; undertake the vast majority of mechanical and electrical upgrades and repairs; fully prepare the bodywork and paint the vehicle; and then put it all back together.
From humble beginnings our reputation for high quality craftsmanship spread, and our customer base transformed to where we are today i.e. that almost 100% of our work is Motor Vehicle related.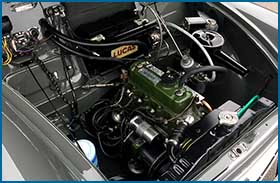 Note: There are still some tasks that will always be better done by others who have specialist knowledge, skills and machinery, so we have established relationships with an array of respected tradespeople who we can call upon when required.
We are very proud of the long list of vehicles we have restored over the years and in fact, there are now very few models that we have not seen in our workshop. However, for us it does not matter whether it's a Mini or a Ferrari, a full ground-up restoration or a simple Service and MOT, if the work is important to our client and keeps his or her cherished vehicle on the road, then it's important to us too.
Is you motor vehicle a "Classic Car," a "Vintage Car," or just an "Old Car"… and does it matter?
Should you retain originality, or modernise a motor vehicle… and does it matter?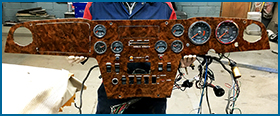 In some circles the classification of a car may matter but at Trickett Autoworks it's of little or no concern whatsoever. If you cherish your older Sports Car, Family Car, 4x4 Off-Roader, Camper Van etc, then it's not for us to make a judgement.

What we see and consider far more important, is that when an owner picks up their fully restored and roadworthy "old motor vehicle," it brings a smile to their face, and it also brings joy to those who see it out on the road.

In reality, isn't it the emotional value enjoyment of a restored vehicle, that truly matters?

So, if you own a Classic, Vintage, or "Old" Motor Vehicle that requires any restoration, repair or maintenance work, then please contact Nigel by phone or email, or come and visit us.
Below are a few photographs of our more recent restoration work.